INTRODUCTION
Rotary dryers are known as the workhorse of industrial dryers. They are able to process a wide variety of materials, and can lend a hand in nearly any industry requiring industrial drying solutions. Some of the most common industries and materials in which rotary dryers are employed include: limestone, mining ores, cement, sand, clay, aggregates, fertilizers, fly ash, gypsum, municipal waste & sludge, potash etc.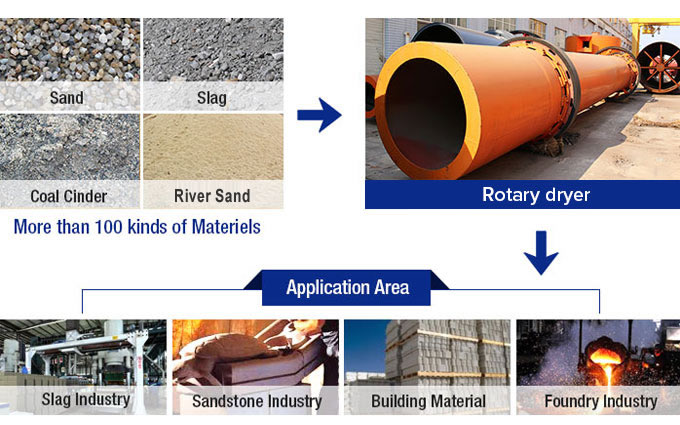 Working Principle:
The material inside the rotary dryer has heat exchange with the high temperature flue gas through shell rotating and material lifting by lifter. The rotary dryer has many good characters like: high efficiency, big capacity, high running rate, saving energy, easy for maintenance, long working life. Variety angle of the lifter will increase the heating exchange rate and short drying time. The following is our customers' success project cases.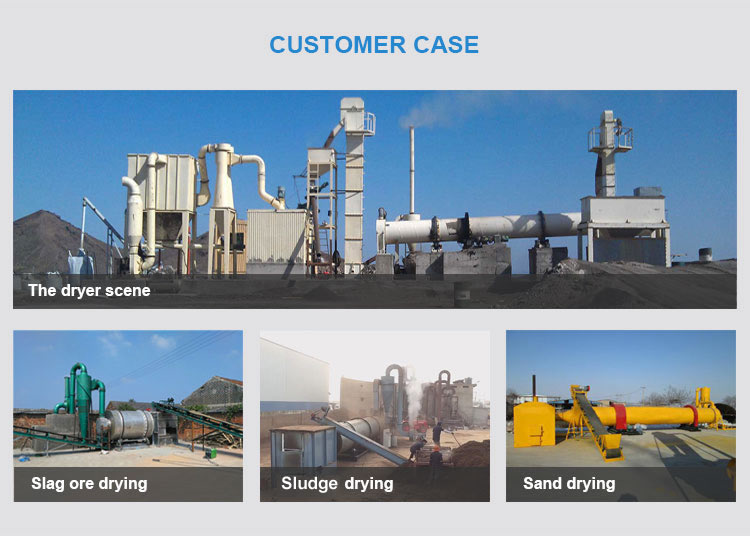 PROCESS
Rotary dryer is mainly compose of driving device, supporting roller, thrust roller, cylinder, kiln inlet, kiln outlet and sealing device.
1. 2-3 supporting points can guarantee the contacting surface between supporting roller and tyre is paralleled with axis line of cylinder during installation.
2. Supporting device is antifriction bearing (occasionally uses slide bearing). This design has simplified the supporting device of supporting roller, and reduced the useless power loss during operation. It has the features like easy operation and maintenance.
3. Suitable shim between tire and shell will ensure the tire ring on the shell tightly to increase the shell strength.
4. The main driving system uses new type AC variable frequency technology. Compared with electromagnetic speed control and DC speed control, that can save energy, have large range & high precision of speed regulation, high efficiency and running smoothly.
5. Radial direction contacting type sealing device is adopted at kiln inlet and outlet. They are perfect suitable for dimension tolerance of cylinder and skewing movement of cylinder. This sealing device's feature is good performance, longer working life and easy for replacement.