INTRODUCTION
We are leading manufacturer of complete equipment for magnesium production line. We can provide the whole service of design, equipment/spare parts supply, investment consultation, installation and operation training for magnesium smelting line (dolomite calcination plant).
We have done many successful projects in both China and overseas countries. POSCO is world class iron and steel supplier in Korea. Their magnesium alloy production lines are supplied by us.
We began to manufacture equipments for Mg smelting industry from 1988, and focused on the technology upgrading and utilization. During 2003-2005, the company invented Vertical pre-heater for the calcination of dolomite, this kind of new pre-heater saves fuel by 40% and increases the output by 30%. The exhaust gas is recycled and dust emission can be controlled under 50mg/m3. This kind of new pre-heater takes up more than 85% in the market share. The company has got the patent of energy-saving rotary kiln, vertical pre-heater and vertical cooler.
Pidgeon process is applied in the company's Mg smelting technology, this kind of process is advanced and reliable technology.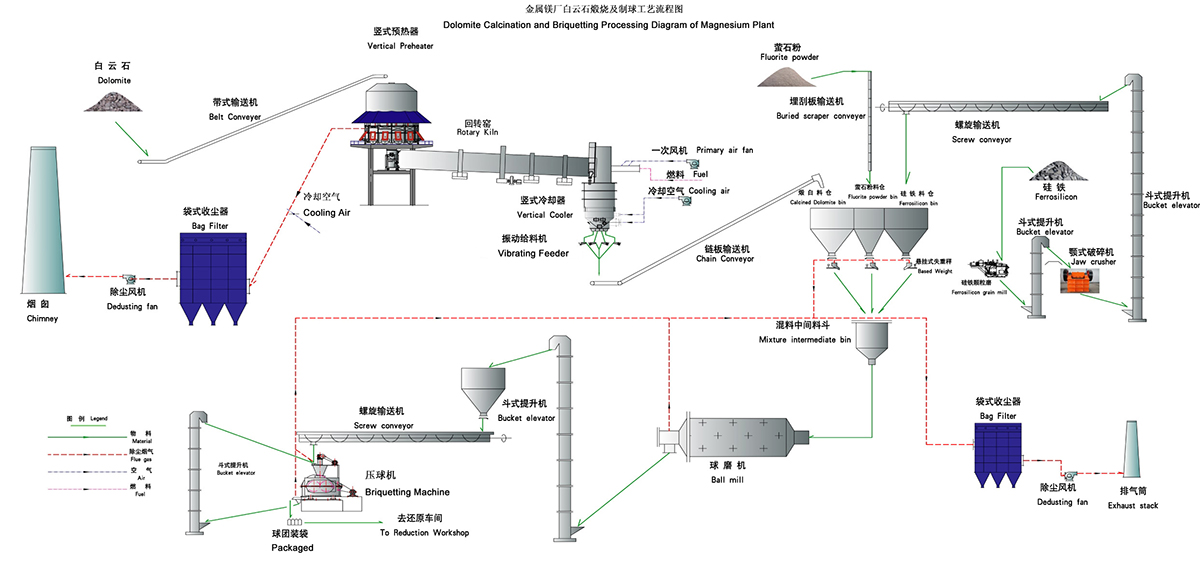 Production Process
Step1: Calcined--The calcined dolomite granular
a. Process introduction: As a result of mining dolomite is too large in volume, so crushing and calcining bulk dolomite, make its become particles.
b. Main Products: Jaw Crusher, Conveyor, Vibrating screen, Vertical preheater, Rotary kiln, Vertical cooler, etc.
Step2: Grinding and balling--Raw material production and storage
a. Process introduction: Calcined dolomite, using a ball mill and other equipment to the grinding ball material, storage after production well.
b. The main equipments: Electronic batching scale, Bucket elevator, Ball mill, Screw conveyer, FU chain conveyor,etc.
Step3: Reduction treatment -Reduction treatment raw materials
a. Process introduction: Refine the raw materials, product the qualified products and sales.
b. List of equipment and processes: Reduction furnace, Wind machine Vacuum pump, Jet pump, etc.
Step4: Refine--produce a product
a. Process introduction:Use of a series of equipment, refine the raw material, create quality products and sales them.
b. The main equipments: Refining furnace, Electronic moisture device, Pouring pump, Continuous casting machine, etc.