INTRODUCTION
The Stone Crushing Plant mainly consists of Vibrating Feeder, Jaw Crusher, Cone Crusher or Impact Crusher, Vibrating Screen, Belt Conveyor and Control System, etc. It is completely capable to crush and screen limestone, marble, granite, basalt, river gravel and other hard stone materials, and produce sand & gravels with various granularities for construction and building industry. We are able to design and manufacture complete crusher plants with capacity from 30tph to 500tph, and to provide optimum and most economical solutions according to customers' requirements on stone specifications, output, application, etc.
Appliation of Stone Crushing Plant
Henan Zhengzhou Mining Machinery Co., Ltd provide a whole set of equipent for stone crushing plant, which can crush many kinds of materials, for example, high hard, mid hard and soft rocks and ores such as iron ore, limestone, slag, marble, quartz, granite, cement, clinker and so on.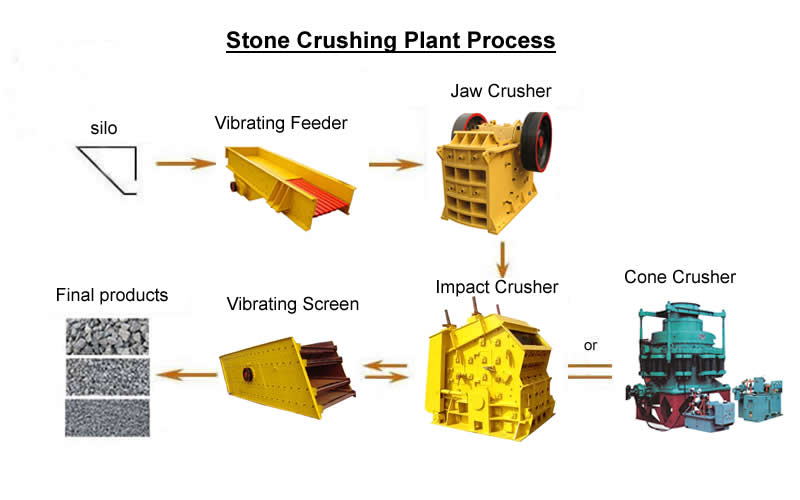 PROCESS
1. Raw materials are evenly and gradually conveyed into jaw stone crushing equipment for primary crushing via the hopper of vibrating feeder.
2. The crushed stone materials are conveyed to crushing plant by belt conveyor for secondary crushing before they are sent to vibrating screen to be separated.
3. After separating, qualified materials will be taken away as final products, while unqualified materials will be carried back to the stone crushing equipment for recrushing. And customers can classify final products according to different size ranges. All the final products are up to the related standards within and beyond China. Of course, according to different requirements, customers can adjust the size of their final products from this stone crushing plant.
4. Clients will get the satisfactory products after objects being crushed for several times. Dust is generated during the working process while the dust control units are needed.