INTRODUCTION
Our Pulverized Coal Preparation Production Line is composed of Raw Coal Storage & Transportation System, Grinding System, Dust Collecting System, Electrical & Instrument Automation System. By the consideration of safety protection for equipment and system, explosion venting valve and nitrogen protection port are adopted at hot air inlet pipeline of Air Swept Coal Mill and coal air output pipeline. Speed of Powder Separator is regulated by VVF, the output fineness could be controlled by adjustment of frequency converter by remote control.
Application:
The coal powder grinding system is mainly used for burner of burning system in cement plant, lime plant etc, which can also applied in making coal powder which are used for the boilers in power plant and thermal power plant.
Production Process Flow Chart
The raw coal is stored in the raw coal bunker and fed into the vertical mill by the belt weigher in bottom of raw coal bunker. After drying, grinding and powder classifying, the coarse coal powder with unqualified size will be fall down onto the millstone again for grinding. Meanwhile the qualified coal powder will be discharged with airflow, and entered into the high concentration bag filter especially for coal mill, the air cleansing by bag fiter will be exhausted into the atmosphere., The coal powder collected by the dust collector will be conveyed into coal powder silo through the conveyor belt. Any sundries inside the raw coal, like coal gangue, metal block, etc, will be discharged out of the mill by vane.
The coal powder prepareation system is designed with safety measures, like anti-explosion value, inert gas fire extinguishing system, etc.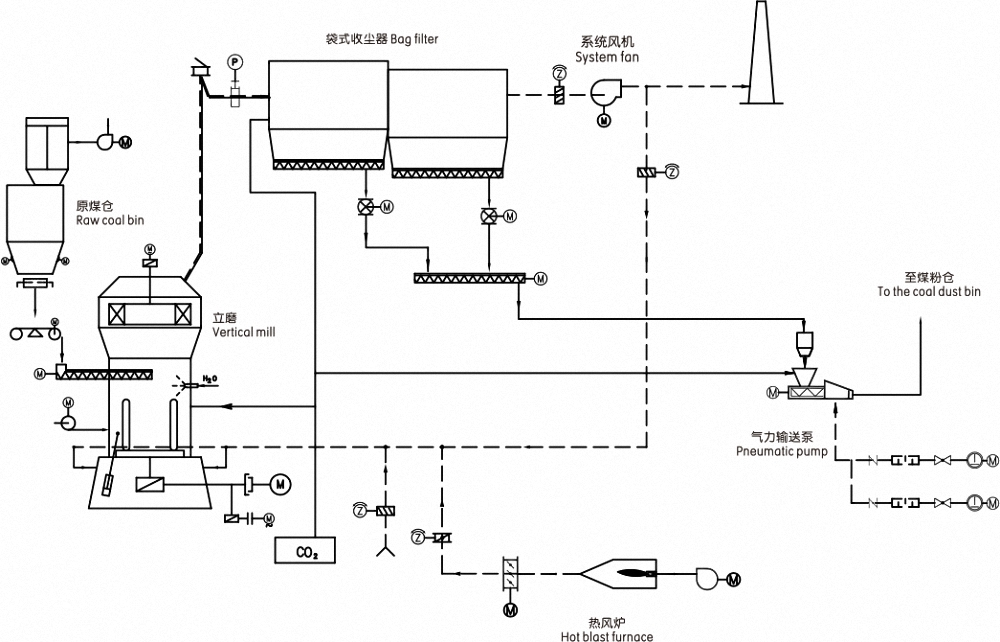 Project Cases
PROCESS
★ Raw coal storage and transportation system
1、The raw coal with size under 35mm and moisture under 15% is conveyed to raw coal shed by auto dumper. The raw coal storaged in coal shed is loaded to coal receiving hopper by loader. The raw coal in coal receiving hopper is feed to bucket elevator evenly by speed adjustable feeding belt conveyor. The raw coal is discharged when it is lifted to required height and then come to powder making system by double layer air lock valve.
2.The rod valve is set between coal receiving hopper and vibrating feeder. It would be closed for maintenance operation of speed adjustable feeding belt conveyor. The feeding belt conveyor is speed adjustable which facilitate for generating operation and management. The iron separator is set on the top of speed adjustable belt conveyor which could get rid of scrap iron mixed in the raw coal. This maximally reduce the threat of scrap iron to the system.
★ Pulverized Coal Preparation System
1.The raw coal from storage and conveying system come into air swept coal mill for grinding. The coal powder mass and heat transfer with 200℃~350℃ hot air. The moisture enter into flue gas from coal. Coal powder is dried by hot air. Then coal powder come to powder separator with airflow for classification. The separated coarse powder come to mill for regrinding. The fine powder comes to powder collecting system with airflow through coal wind pipe.
2.To protect the equipment and system safety, the explosion venting valve and nitrogen protection connector are set on hot wind inlet pipe of air swept coal mill and outlet pipe of coal wind. Powder separator uses frequency conversion motor to adjust speed. It realizes remote control of the discharging fineness of powder separator by adjusting frequency converter.
★ Pulverized Coal Collecting System
Under the negative pressure of induced draught fan set after explosion proof bag filter, the qualified coal powder discharged from powder separator, and come to explosion proof bag filter by coal wind pipe. After it goes to filter bags of dust collector for filtration, the coal powder is collected and drop to coal powder hopper underneath the dust collector. The filtered and purified flue gas is discharged to air by funnel through induced fan. The pulverized coal storage in coal powder hopper is discharged to bucket elevator by revolving discharger and screw conveyor and then lift to the top of coal powder hopper by bucket elevator. After that it goes to coal powder hopper by screw conveyor on the top of hopper.